« Back to News & Notices
Carolyn Walker Named 2019 System Board Member of the Year!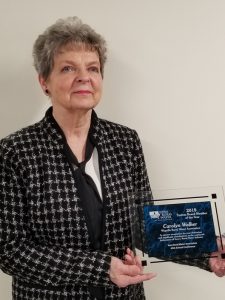 The Iowa Rural Water Association is pleased to announce that Carolyn Walker of Wapello Rural Water Association has been named the 2019 System Board Member of the Year. Mrs. Walker was presented this honor during the Iowa Rural Water Association's 45th Annual Conference held at the Veteran's Memorial Community Choice Credit Union Convention Center February 17-19, 2020 in Des Moines, Iowa.
This award is presented to an outstanding Rural Water System Board Member who has gone above and beyond the normal requirements of their duties. Carolyn Walker, has been a very dedicated board member of the Wapello Rural Water Association for 30 years with 24 of those years serving as Board President. She has helped the water association grow and her knowledge of the rural water system has been invaluable.
Carolyn and her husband Richard signed up for the initial study of rural water in their area. After Wapello Rural Water Association became a reality, they hooked onto the system as soon as it was available. When the first annual meeting was announced, she attended as an interested water user. When a vacancy occurred on the board, she was asked to run for the Board of Directors.
Her door is always open and her telephone available to board members and staff. She has witnessed Wapello grow through the years and met many challenges along the way.
In addition to her service to Wapello Rural Water, Carolyn serves as the township clerk of Center Township in Wapello County. She also volunteers in many capacities at the Davis Street Christian Church and Church Women United. As a member of her credit union, Carolyn has served on the credit union's audit committee for over 50 years. Carolyn is also a longtime Tax-Aide volunteer income tax preparer for the Vita program sponsored by United Way of Wapello County where she would be today if not here. Her volunteerism was recognized when she received the 2017 Governor's Volunteer Award.
For her dedication and commitment to serving the rural water community, the Iowa Rural Water Association was proud to present Mrs. Carolyn Walker with the 2019 System Board Member of the Year Award.